The construction industry
The construction industry is a dynamic and fast-growing sector. The steady increase in employment in the industry points to its growth and the escalating demand for skilled staff. At Select Recruitment Specialists, our dedicated consultants, many with industry experience themselves, are ready to meet this demand across the country.
Our recruitment experience in construction
At Select Recruitment Specialists, we understand the importance of finding the right fit for every role in your construction projects. With decades of experience in recruitment, we are committed to helping you meet the demands of the ever-evolving construction industry.
Our unrivalled understanding of the UK construction jobs market enables us to provide specialist recruitment services tailored to your needs. We have built strong relationships with high-performing businesses in the sector, helping them to source talented professionals who can contribute to the growth and success of their projects.
We recognize that the construction industry, a vital cornerstone of our economy, requires skilled and dedicated individuals at all levels. Our recruitment experience covers a broad spectrum of roles, from project management positions to on-site labourers, carpenters, and other skilled tradespeople. This breadth of knowledge allows us to identify and source the right talent for your needs, whether you are looking for permanent staff, temporary workers, or executive hires.
Our dedicated construction recruitment specialists use their sector knowledge and regional insights to match your ambitions and deliver the scale, insight, and deep understanding that your hiring strategy requires. With a customer-first, data-driven approach, we strive to simplify your recruitment process and deliver solutions that meet your business needs within the construction sector.
Construction clients we recruit for
We take pride in our partnerships with a diverse range of organisations in the construction industry. From small businesses to international firms and local authorities, we offer tailored support to meet your recruitment needs.
We offer permanent, temporary, and executive recruitment services for construction industry clients. The roles we recruit for include construction manager, estimator, foreman, on-site engineer, planner, project manager, quantity surveyor, site engineer, site manager, as well as blue-collar roles such as carpenters, electricians, plumbers, labourers and many more.
Construction recruitment services
At Select Recruitment Specialists, we aim to provide more than just personnel. Whatever your workforce challenge, we constantly innovate and evolve our services to deliver the best solution for your organisation. Whether you need a permanent staff member, a temporary professional to make an immediate impact, an inspiring leader, or a comprehensive outsourced hiring solution, we've got you covered.
Our core services include temporary recruitment, fully managed temporary recruitment, permanent recruitment, outsourced permanent recruitment, and executive recruitment. We have designed these services to provide you with the flexibility, support, and insights you need to make informed hiring decisions, reduce costs, and manage risks.
We understand the value that temporary workers bring to the construction industry. By leveraging our extensive networks and omnichannel approach, we can help you access the labourers, carpenters, and other skilled professionals you need, when you need them. We also handle administrative tasks like pay and timesheet management, enabling you to focus on your core operations.
Careers in construction
Construction projects require a multitude of skilled professionals, both white and blue-collar workers, to bring them to fruition. Our recruitment services extend to a wide range of roles within the industry.
From project managers who oversee the project from start to finish, to the labourers, carpenters, and other tradespeople who bring the plans to life, we are committed to finding the right people for the job.
We recognise the importance of every role within a construction project and value the expertise and skills that all workers bring, whether they're a project manager, an estimator, an architect, an engineer, a surveyor, or a customer care manager. We also understand the vital contributions of health and safety officers and administrative staff in ensuring smooth operations.
If you're interested in learning more about the new exciting field of digital construction careers and how they're paving the way for new opportunities in the industry, check out our blog post on digital construction.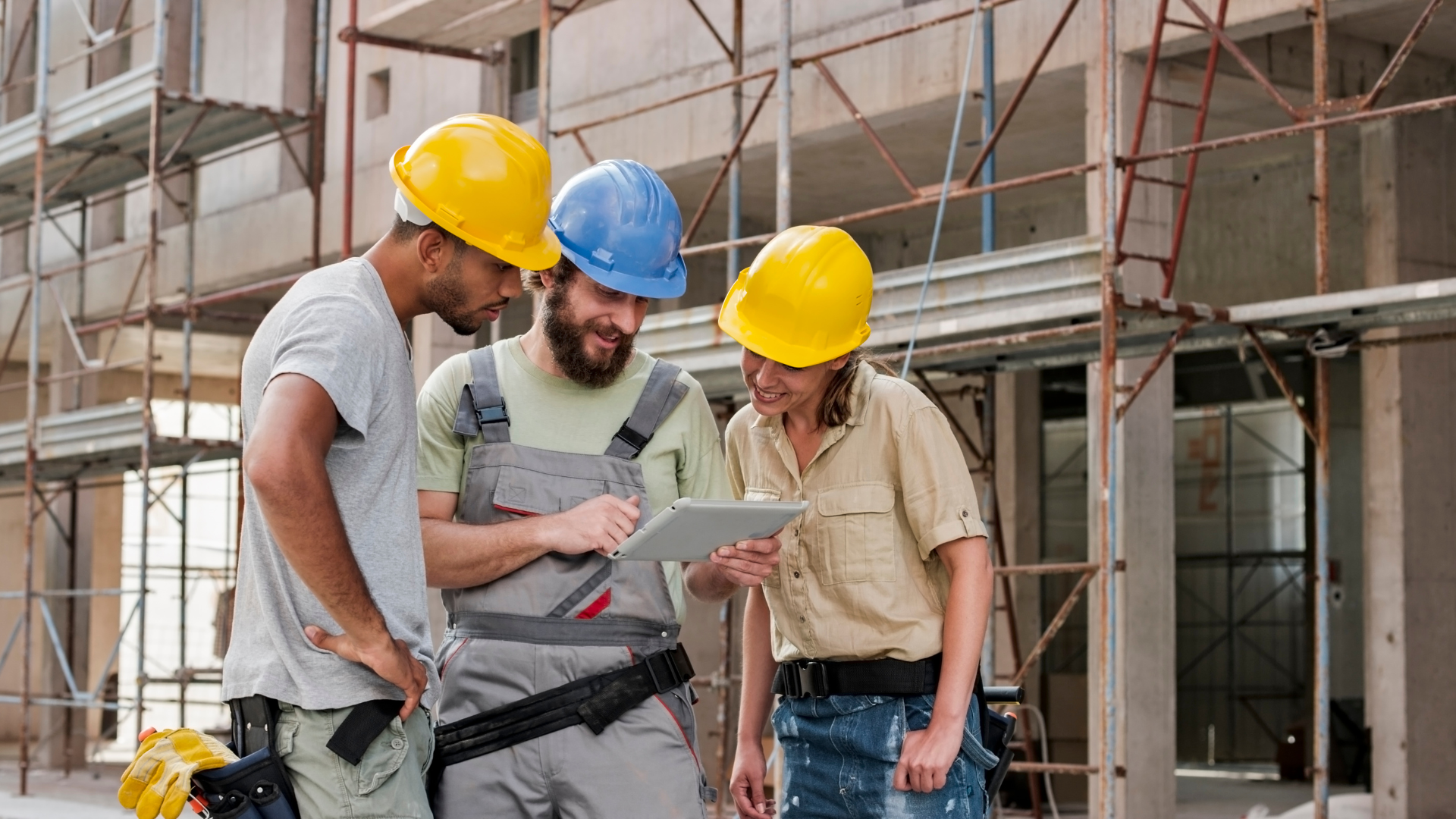 Project managers
Also known as: Construction Manager, Construction Project Manager, Project Co-ordinator, Site Manager, Site Agent, Contracts Manager
These individuals are responsible for planning and overseeing projects from inception to completion. They work to ensure projects are completed on time, within budget, and to the client's satisfaction.
Check out our guide to read more about the role of the Project Manager and how to start your career in the same position.
Technical Managers
Technical Managers must have a strong understanding of construction principles, methods, and materials, as well as the ability to manage and coordinate technical teams, including architects, engineers, and contractors. They are often responsible for preparing and reviewing technical documentation, such as project plans, blueprints, and engineering reports. Check out our article if you are interested in finding more out about what a career as a Technical Manager would look like.
Estimators
Also known as: Building Estimator, Cost Estimator
Estimators assess the costs associated with a construction project. They calculate material, labour, and equipment costs, as well as time scales for completion.
This is a crucial role for any construction firm, as the Estimator's work will help to secure investors and will benchmark the timescales, materials and budget. Check out our guide on what exactly and Estimators Planners does to learn more.
Architects
Also known as: Building Designer
Architects are crucial in the design phase of construction projects. They create detailed blueprints that meet client needs and comply with local building codes.
Architectural Technicians often support Architect professionals with everything from but not limited to; meeting clients, ensuring regulations re complied to and producing CAD drawings. If you would like to find out more about the role of an Architectural Technician, check out our article. Wondering how to get started? Read our guide on beginning your career as an architect in the UK.
Engineers
Also known as: Electrical Engineer, Mechanical Engineer, Civil Engineer, Structural Engineer, Construction Engineer
Engineers are responsible for the technical aspects of a project. Put simply, Engineers ensure that everything works. Often Construction Engineers specialise in specific areas of a project, like electrical, mechanical, public services (bridges, highways, water systems, etc). This could involve structural considerations, electrical systems, or the integration of plumbing and HVAC systems.
Planners
Also known as: Urban Planner, Project Planner
Project Planners work closely with Project Managers and sometimes the role of the Project Planner becomes part of the Project Manager's role. The Project Planner plans and tracks the costs involved in a project, they maintain schedules, keeping resources and time scales on track. They provide regular updates to higher management and maintain contact with project staff to ensure effectiveness of workforce. It is their responsibility to keep an ear to the ground and resolve any conflicts or issues. Check our guide to gain some more insight into what the role of a Planner involves.
Whilst the Project Manager takes an overview of the whole project ensuring all numbers and tallies add up, the Project Planner takes a much more hands on role, spending more time on site. As a Project Planner you have to have excellent numeracy skills and be a great people person.
Urban Planners have to have the same sort of skills, but their role is completely different. The goal of the Urban Planner is to improve the community as a whole. Their role is multi-faceted taking into consideration environmental impact, economic development, social issues, historic preservation and legal restrictions.
Surveyors
Also known as: Boundary Surveyor, Land Surveyor, Engineering Surveyor, Construction Surveyor, Forensic Surveyor, Geodetic Surveyor, Marine Surveyor
Surveyors measure and map out the land on which the construction project will take place. They help to establish legal boundaries and assist in planning and zoning.
Surveyors hold an incredibly important role in preventing legal disputes by updating boundary lines and preparing sites for construction to begin. They take and provide relevant data concerning the exact location of specific sites, angles of the earth and measurements beneath the earth's surface. They are also heavily involved with researching land records, survey records, land titles, and land and water boundaries in order to present their findings to clients and government agencies. Read more about what Quantity Surveyors do in our article.
Customer care managers
Also known as: Quality Manager, Contracts Manager
These individuals handle any concerns or complaints from customers during or after the construction process. They help to ensure customer satisfaction and maintain the company's reputation.
Find out more about the role of a Contract Manager in our handy guide.
Health & Safety
​A Health and Safety career in the construction industry in the UK can be a highly rewarding and challenging career path. Health and Safety professionals in the construction industry are responsible for ensuring that workers are safe and protected from hazards that can cause accidents and injuries on construction sites. They also ensure that the construction site is in compliance with the relevant health and safety legislation, If you'd like to explore more about the Healthy & Safety career opportunities within Construction, click here.
Administration
In the construction industry, administrative and office support roles are crucial for ensuring that the project runs smoothly and efficiently.
​Want to know more about this exciting part of the sector? Check out our article on administration careers in the construction industry.
Carpenters
Also known as: Joiner, Chipper, Finisher
Carpenters work with wood to build and install structures. This could involve framing houses, constructing stairs, or installing doors and windows.
Electricians
Also Known as: Electrical Fitter, Electrical Engineer
Electricians install and maintain the electrical systems in buildings. They ensure that all work is in compliance with local codes.
Plumbers
Plumbers install and repair the piping systems in buildings. This could involve water supply lines, waste disposal systems, or associated fixtures and appliances.
Labourers
Labourers are the backbone of any construction project. They perform a variety of tasks, including loading and unloading materials, assisting skilled tradespeople, and helping to keep the site clean and safe.
Masons
Also Known as: Bricklayer, Finisher
Masons work with brick, stone, concrete, and similar materials. They construct and repair walls, partitions, and other structures.
Painters
Painters apply paint, varnish, and other finishes to a building's interior and exterior surfaces. They also prepare surfaces for painting and ensure a clean, smooth finish.
Roofers
Roofers install, repair, and replace roofs on buildings. They ensure the structure is watertight and can withstand the elements.
​
At Select Recruitment Specialists, we understand the crucial roles that both white and blue-collar workers play in the construction industry. We're committed to finding the right fit for every role, ensuring a successful project from design to completion. Whether you need a skilled tradesperson, an experienced manager, or a dedicated customer care professional, we have the expertise to find the right talent for you.
We're here to help you build your team with the right mix of skills, experience, and dedication. Whether you're looking for permanent staff, temporary hires, or executive leadership, we have the expertise to support your recruitment needs. Please get in touch with us today or send us your CV to find out how we can help you.
Get in touch
At Select Recruitment Specialists, we recruit for all of the above roles and more, so if this page has built on your interest, please do get in touch with us today or send us your CV to find out how we can help you.
​
​