Every professional kitchen works under a distinct set of rules and chain of command. This system of hierarchy found in restaurants and hotels is known as brigade de cuisine (kitchen brigade). This system was developed by French chef Georges Auguste Escoffier around 100 years ago. As such, many of the job titles are in French, but have no fear you won't need to speak French after reading this.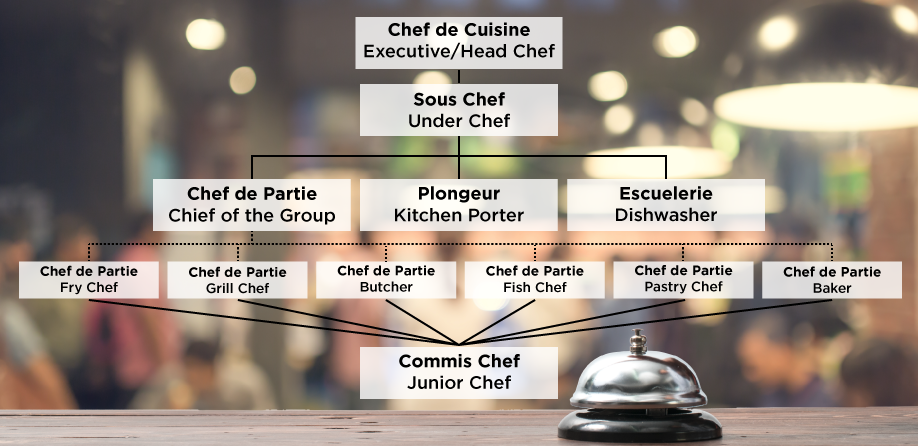 ​
Chef de cuisine (Chief of the kitchen)
Also known as: Executive Chef, Head Chef
At the top of the tree is the Head Chef. The Head Chef is responsible for the running of the kitchen, including setting the menu, organising staff, liaising with suppliers and managing the budget. Some larger establishments may have roles for both an Executive Chef/Chef de Cuisine and a Head Chef where the Head Chef manages the kitchen and the Executive Chef manages the more commercial decisions.
Sous chef (Under chef)
The Sous Chef is second in command of the kitchen. The Sous Chef takes on much of the responsibilities of running the kitchen as the Head Chef has a more overarching role. They direct how food is presented on the plate and are the person behind food quality control. They also have a much more hands on role managing the existing staff and training newcomers.
Due to the many facets of their work, Sous Chefs are generally experienced chefs with high levels of knowledge in equipment and culinary techniques. They must be excellent cooks, but also great with people and effective managers.
Chef de partie (Chief of the group)
Also known as: Line Chef, Station Chef
There are many different different types of role that fall under the Chef de Partie. This is because they are responsible for running different sections of the kitchen, including Butcher, Fish Chef, Fry Chef, Grill Chef, Pantry Chef, Roast Chef, Saute Chef, Vegetable Chef and Pastry Chef. Depending on the size of the kitchen, they may have one or many Chef de Parties.
Commis chef (Junior cook)
Also known as: Apprentice Chef
The Commis Chef reports to a specific Chef de Partie to learn all about that station and its operation. Commis Chefs usually work alongside completing other culinary training in order to gain invaluable on the job experience.
Plongeur/Marmiton (Kitchen Porter)
Also known as: Kitchen Assistant, Kitchen Hand
Kitchen Porters assist the chefs with the kitchen's time-consuming tasks like peeling vegetables, tidying up utensils and prepping plates for service. Sometimes, in smaller kitchens, the Kitchen Porters' role is combined with that of the dishwasher.
Escuelerie (Dishwasher)
Also known as: Pot Washer
Dishwasher roles involve collecting dirty plates and prepping them for the dishwasher, or manually cleaning them, as well as shining cutlery and making sure the clean plates and utensils are where they need to be for efficient service.
​
Any role in a professional kitchen is a busy one, especially when there is the dinner rush orders come flooding in, every dish is different, all dishes have different cooking times, but they all have to arrive at that table at the same time. There is little room for error to distinguish between a customer who has a good experience and will return and one who has a bad experience won't return and will leave a bad review online.
At Select we want to make sure that everyone, client or candidate has great experience with us, that's why we only hire the best hospitality consultants with previous experience in the industry. Get in touch with us by sending us your CV or contact your specialist recruitment consultant directly.