​The past 14 months have been difficult on so many of us and our mental and physical wellbeing. This week, Mental Health Awareness Week, is a great opportunity to take a moment, step back and just double check you are okay.
Mental health at work
For full time workers, work is a place that you spend around a third of your working week, whether that is in the office or working from home. So, it only makes sense that this would have a great bearing on your mental health.
A 2016 study showed that 1 in 6 people report experiencing a common mental health problem (like anxiety and depression) in any given week in England. So, if you haven't experienced mental health problems previously, you can guarantee that someone in your team at work has or is.
This is why physical safety and mental health should take equal precedent in every workplace.
What can you do?
Maintaining constant happiness is unattainable. This is something that platforms like social media struggle to communicate and can therefore exacerbate feelings of inadequacy. However, embracing balance in our emotions is something we all have to work on. Small daily steps can help keep you grounded and remain calm. Here's some ideas (backed by the NHS) to add to your daily routine:
​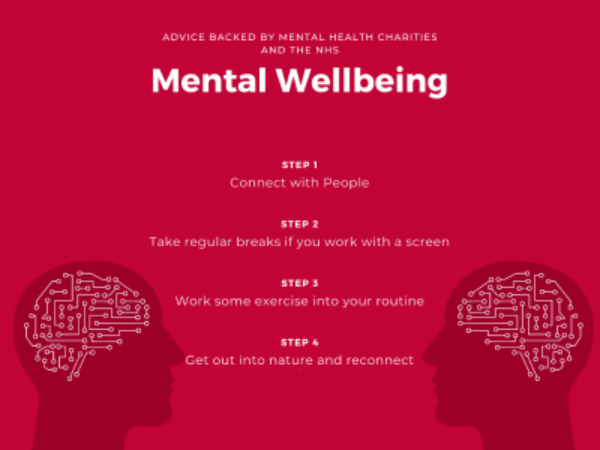 Connect with people – whether you phone a friend, arrange a fixed time for a family dinner, switch off the screens in the house and take time to talk or play a game. Make sure you don't just rely on tech or social media to build your relationships
Take regular breaks from your computer – Over exposure to a screen can not only be damaging to our eyes, but can bring on headaches and fatigue. Remember to take regular breaks and if you sit in a shady spot, be sure to go out and get some natural light.
Do some exercise – whether it is taking a lunchtime stroll, a morning gym session or 20 minutes dancing around your living room, it can do wonders for your self-esteem. Find an activity you enjoy and make it part of your routine
Get out in nature – Spending time in nature has been found to alleviate the symptoms of anxiety and depression. You could try growing your own fruit and veg (even if you don't have a garden, if you have a sunny windowsill you can grow things like chilli plants or plenty of flowers/herbs. Visit your local park and see how many different types of bird you can spot, which is a great activity to involve the rest of the family in too.
Read more advice on the NHS website.
What can businesses do?
There is a wonderful website called Mental Health at Work, which is ran by mental health charity Mind, where you can find all sorts of helpful resources about getting to grips with workplace mental health. https://www.mentalhealthatwork.org.uk/about-this-website/
​
At Select, we are by no means experts in Mental Health, however our position of speaking to both business leaders and candidates everyday has shown us how different working environments/company cultures can have a profound impact on the happiness of employees. Similarly, looking for work can also be demoralising, that's why our consultants work with you throughout your job hunt, offering tailored advice on CV writing, interviews and offer negotiation. If looking for work on your own is affecting your mental wellbeing, please contact your local Select office for a no-strings attached chat.