​As the government winds down its furlough scheme, concerns are mounting over the pace of Britain's economic recovery and the fate of many employees who won't be welcomed back to work after furlough ends. In fact, the Treasury's independent economics forecaster said that at least 10% and potentially as much as 20% of the 9.4m jobs furloughed will be made redundant.
What does this mean for applications?
​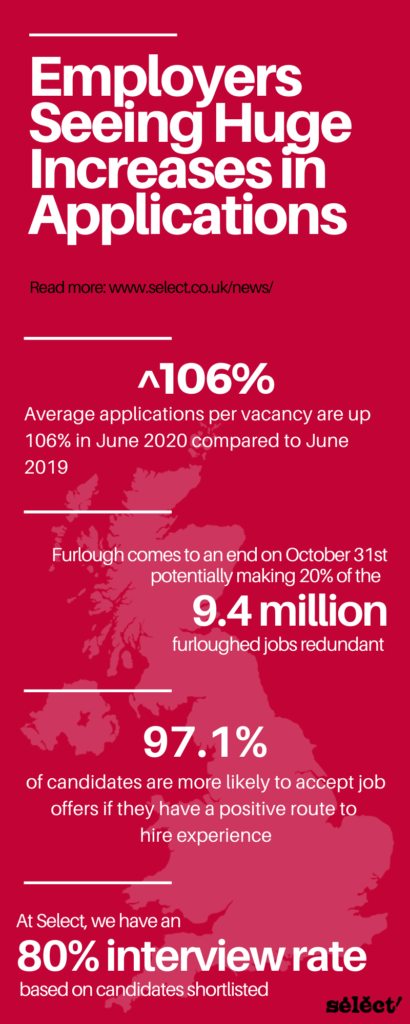 ​
An impending flood of redundant employees heading to the jobs market, hirers are going to be inundated with hundreds of applications to every vacancy. Compounding this is the fact that the number of live job vacancies in July stood at just 361,000 – less than half the number advertised in February before lockdown.
In fact, the average number of applications every vacancy is receiving has already begun to rise. According to statistics from job board CV Library, applications per vacancy had increased by 106% in June 2020 compared to June 2019.
This prospect may sound great for those employers looking to hire – you will be able to hire the best of the best – but in actual fact, the logistics of going through a deluge of applications is impractical. At the most extreme end of the spectrum, the BBC reported on the 1st August that a Warwickshire-based engineering firm had received an astonishing 15,000 applicants for 10 jobs within the first week of advertising. Such an influx is going to overwhelm even the most organised HR department.
The increase in candidates heading to the market is not isolated to particular industrial sectors. In actuality, many people are taking this opportunity to retrain or change their career trajectory. Analysis of CV's on job board Indeed, revealed that there was a 73% increase in bar managers looking at labourer jobs in construction between January and July YOY and similarly a 70% rise in restaurant managers looking at customer assistant roles over the same period.
What does this mean for me?
Job Seekers
As a candidate, there is going to be a lot more competition out there for every role you go for. Not every job you apply for will have the capacity to get back to every person who has applied, but do not be disheartened if you don't get the job.
Now is the perfect time to start working with recruiters, if you do not already.
As a Select Candidate, you will receive an honest response to your applications and can chat to your consultant about what you can improve on. Registering with us, means that you go into a fully attributed database, which is always searched first for suitable candidates when a role comes in. At Select, we aim to function as an extension of our client's businesses. We get to know their teams and the working environment as well as we know our own. This means that we can give you excellent advice and coaching when applying for a role with one of our clients. Plus, you don't have to pay a penny for our services – so you have nothing to lose.
Employers
As a hirer, you should expect to see a higher than normal number of applications to any role. If you are hiring for entry-level/graduate positions, you should expect to receive a deluge of applications. Your HR team need to have the time and/or the software in order to go through these applications to find the right person for the job.
Becoming a Select Client could save your team hours upon hours of work sifting through applications to shortlist candidates. Acting as a part of your team, Select get to know exactly what you want from your next hire, so we can dig out applications that we know you will want to interview. As a partner of Select, you also get access to a whole suite of recruiting software, including our most recent investment in all-in-one video interview technologies, which is proven to increase the interview to hire ratio to over 70% (find out more about our modern recruitment methods).
​
Now is the perfect time to start working with recruiters, if you do not already. Whether you are a job seeker or a hirer, the benefits of working with someone like us are vast. If you would like to know more, please get in touch.