​The whole world has seen the vital part engineering has played in fighting the pandemic. Without engineers, the Nightingale hospitals would never have been built, the Ventilator Challenge would never have provided 14,000 life-saving pieces of equipment to the NHS in the space of three months and the production of PPE and hand sanitiser would have suffered greatly. We have a lot to thank engineers of all disciplines for. However, we need to ask more of them.
Buying local
In the UK, we are witnessing a shift in consumer spend. As a report conducted by Barclays Bank discovered, public spending has shifted to show greater support for small local businesses. At the moment, this is isolated to the high street, but it is a small leap to predict that this trend is going to continue and spread in the UK.
This focus on local, may be further compounded by the effect of Brexit and whether by January 2021 we can agree and ratify a trade deal with the European Union. Favouring locally grown and manufactured goods means that there is a greater need to innovate in our manufacturing industry sooner rather than later.
Inspiring the next generation
Innovation means that teams will have to upskill, or new skills will have to be bought in-house to achieve the very best in manufacturing efficiencies. A fact that has not eluded a consortium of industrial stakeholders (Make UK, the Trade Union Congress, the Confederation of Shipbuilding and Engineering Unions and training providers Enginuity and Cogent) who have joined forces to lobby the government to safeguard Britain's skills, young people and the manufacturing sector as a whole.
The consortium has written to the Secretary of State for Education, Gavin Williamson, to create a National Skills taskforce. This taskforce would identify where worker's skills are required and spearhead a future-proofing upskilling programme to support employers venturing into the new digital and green technologies that are steadily emerging. The letter also discusses the protection of Apprentices through increased flexibility in the Apprenticeship Levy scheme.
The skills shortage in the Engineering sector has long been a topic of conversation. Re-skilling experienced personnel and inspiring the next generation of school leavers to enter apprenticeships is the main way out of this predicament. Unfortunately, a recent piece of research by EngineeringUK has revealed that concerns over future prospects were common in 11 to 19 year olds. 62% of those surveyed agreed or strongly agreed that finding a job in the future will become more difficult; 41% stated that finding an apprenticeship would also be more difficult; and 52% agreed that University places will also be more difficult to obtain.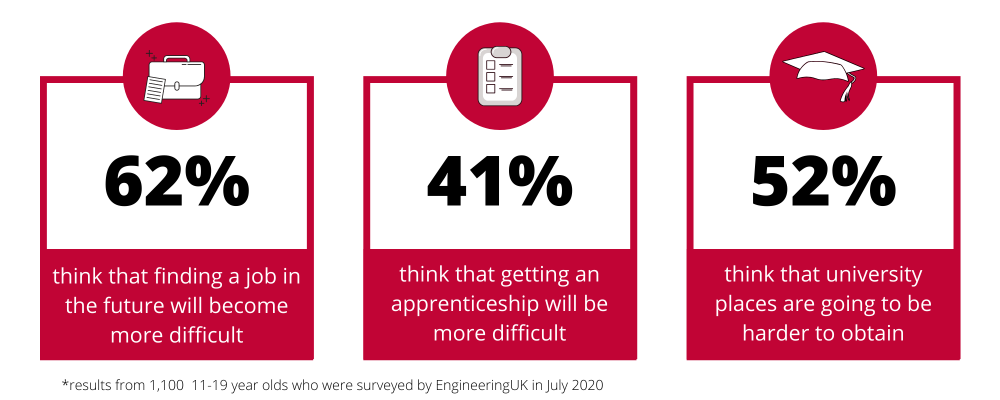 In order to secure UK Manufacturing and future-proof the industry, something must be done on a hiring and an education level. At Select, we work closely with the East Coast College OWSC (Offshore Wind Skills Centre) to promote the sector in the region where we are headquartered and encourage young minds into the industry. On a national scale more needs to happen.
Innovating for the future
The future of our young people in Engineering is not the only future to think about. In order to compete with manufacturing giants like China and the USA in the long-term, UK-based manufacturers must innovate. According to a survey conducted by The Engineer magazine in partnership with simulation software provider aPriori, now is the perfect time to start modernising.
The survey results have revealed a state of stagnation in UK manufacturing with 47% of respondents saying that they are not yet utilising modern manufacturing and simulation software in their design processes. Additionally, only 42% reported that they were actively working or getting started on process improvements to accelerate new products to market in the wake of the pandemic. Of course, this may be a temporary state of affairs until the market trajectory is clearer, but whether this is reflective of the inability for established UK Manufacturing to evolve remains to be seen.
Witnessing the rise of younger, more agile manufacturers pre-pandemic, it is unclear whether more traditional, long-standing manufacturers will be able to adapt and subsequently grow. What is evident is that during the pandemic, businesses that have been able to embrace digital technologies are the ones that are now thriving. It is also clear that the role engineers are going to play in the positioning of the UK in the wider global economy is crucial.
How can we help?
At Select, we have a specialist Engineering team who focus on contract and permanent roles across a wide spectrum of industries. Whether you are looking to bring on extra talent to conduct a specific project, or you are looking to bring in talent to your existing team, we are able to help bring your business up to the task.
Get in contact with us today, to find out more.
If you are looking to up-skill, Engineering training provider, Enginuity, is offering free courses throughout Covid-19, which could be a game-changer for you.